Learning how to retain customers is essential for surviving in the New Economy. Without customers you have no bus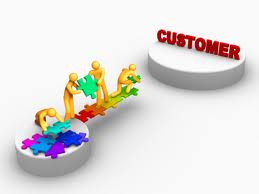 iness so caring for them and nurturing relationships with them seems like an obvious strategy. Think again. Poor customer service is the number one reason customers stop doing business with their current supplier/provider. In fact according to a Harris Interactive study 86% of consumers stop doing business with a company due to poor customer service.
Companies spend huge amount of their budget attracting customers to their business only to lose them due to the customer experience they deliver. Trying to grow your business without a solid customer service program in place is like trying to fill a bucket with water that has gaping holes in it. Unless you fill the holes you'll never fill the bucket.
What holes should you fill first? It depends on your business but to a Right Now study the top three customer service problems were:
73% Rude staff
55% Issues weren't resolve in a timely manner
51% untrained staff
Also according to the US Small Business Administration 68% of customers stops doing business with a company due to indifference. This means if you want to drive your customers away in droves you should ignore them,treat them rudely, serve them with uninformed staff and make them wait for issues to be resolved.  This is an obvious recipe for disaster.
Most businesses know that it costs 5 to 6 times as much to get a new customer as it does to keep an existing one and that existing customers are more profitable than new customers. So why don't more companies do a better job learning how to retain customers? Lack of focus, training and follow up are the likely culprits. Many businesses seem to be saying, "I don't have time to take care of my existing customers because I too busy chasing new ones!" If this is you or your business, STOP IT!!!
If you want to survive in the challenging times we live in you must fill the four biggest holes in your customer retention bucket. Put these simple, proven and powerful strategies in place starting today.
1. Pay attention to your customer. Don't ignore them or take them for granted. Use whatever means available to you to cultivate a relationship with each and every customer.
2. Don't hire rude employees and fire the ones who are. Companies like Zappos and Southwest Airlines take great care to hire people who are wired to give great service. If they are rude to anyone during the interviewing process they are rejected.
3. Train your people to effectively address your customers' issues. Investing in the training of your front line staff is like making direct deposits in your customer relationships.
4. Resolve issues quickly, effectively and personally. Everybody makes a mistake. Admit it, resolve it and move on. 92% of customers who leave due to poor service would come back if they get and apology, receive a discount or get an invitation to observe improvement in customer service.
Implementing effective strategies in these four areas will give you a fighting chance to survive in a competitive marketplace.
If you want to thrive in the New Economy then you'll need to up your customer service game and learn how to retain customers at whole new level. According to Peppers and Rogers Group 81% of the companies who excel in delivering customer experience are outperforming their competition. Customer  service excellence is a formidable competitive advantage. How does your company's customer experience delivery stack up with your competitors?
To learn how well your company's customer service initiative are contributing to your success take the Growth Positioning Survey.