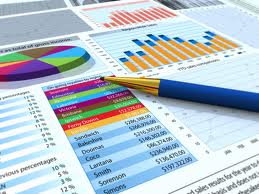 Do your business metrics keep your business focused and moving toward your vision? As a small business owner or CEO of a small business you are paid to describe the future (your business plan) and then create it. This requires vision and execution. The path to any vision is rarely as smooth in execution as it is on the drawing board. Like most flights on an airplane getting off course is expected. The key is how quickly you and the pilot can course correct.
To make mid-course corrections you need an instrument panel or dashboard.  The business dashboard as a metaphor for critical metrics to measure business performance originated years ago at General Electric.  Just as you use the speedometer, oil gauge, fuel gauge, and other instruments to monitor the status of your car as you drive, you want to keep track of key indicators of the performance of your company. Like the dashboard gauges, your metrics allow you to continually assess your progress and detect any potential problems.
An effective dashboard provides you with the information you need to make good decisions that keep your company out of harm's way and moving in the right directions. This means that you must select reliable and predictive metrics. Armed with the information they provide, you must be able to use them to help decision making. This isn't always easy. Consider the fact that Federal Reserve Chairman Ben Bernanke and other top central bank officials failed to see the housing crash coming as late as December 2006.
With all the resources at their disposal coupled with the years of experience identifying economic trends, how did they miss the biggest financial crisis since the Great Depression? Were they looking at the right metrics? Or did they interpret them wrong? Or did they just make poor decisions based on what they saw? We may never know. But their failure to execute on this key leadership lesson points out how important it is to have metrics that inform you well enough in advance to take corrective action. 
Your choice of business metrics and the importance you give them show what you value. If you value customer service or new product development, for example, you make them central to your business metrics. You include it in your dashboard.
By instituting key business metrics across functions and groups and at every level, you directly link individual performance to measurable outcomes. This sends a clear message that not only do you care about customers and revenue, but so should everyone else, since they are accountable for the results measured by their particular metrics. Clear accountability is essential for executing this leadership lesson.
Whether you manage a small administrative staff or a  global company, you need business metrics to keep your business on track. Having a solid business plan is essential but that's not enough because of the dynamic nature of the marketplace. This is especially true for small- and medium-sized businesses. Juvo Products manufactures assistive living products for seniors and people with mild disabilities. Because they are a growing early-stage business they must remain extremely nimble. As Park Owens, President of Juvo Products explains, "It's a matter of how quickly you adjust and how flexible you are. How quickly you can react.  I would say 50% of our business plan was right on and 50% was off."
When establishing metrics, beware of metrics that:
aren't easy to collect data that's accurate or complete
are complex and difficult to explain to others
complicate operations and create excessive overhead
cause employees to act not in the best interests of the business, just to "make their numbers"
John Menzer, CEO of Michael's describes how he and his management team use metrics to manage their business. "We talk about what we saw in our stores and we ask," What are the three things we need to adjust for the weekend to maximize sales and earnings for the weekend?" And we make those changes on Friday. What do we see in competition? How are the promotions doing? Do we need to make any adjustments because of that? So we're running the business on a kind of weekly basis, but our Merchandising Team is probably running on a daily basis. Even marketing is maybe running on a daily basis now because the economy is just so tough. We are changing on the fly even based on weather. We're now using weather service and we've incorporated that weather service into our modeling and pricing and promotions. So if we know a snow storm is coming, we're going to get that promotion in earlier rather than later."
If you are committed to accelerating your company's speed to vision you need to ask yourself the following questions:
Do your metrics allow you to proactively respond to challenges and opportunities?
Do you have systems in place that make it easy to regularly monitor your metrics and course correct to achieve your goals?
Your honest responses should go a long way for you putting in place the metrics and systems you need to navigate in today's tough economy.