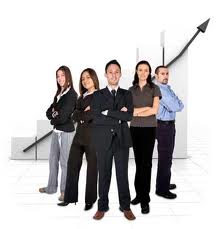 Do you want to grow your business? If you do then you must have the right people. In Jim Collins book "Good to Great" he says you have to make sure that "the right people are on the bus". This means that you as a leader must know the strengths and motivation of each person on your team, as well as how the individual impacts the performance of the team. Recognizing a person's talent and then managing it creates a motivated and engaged workforce. Failure to hire the right people for the jobs and not putting people in positions where their talent can soar is a waste of a company's resources. Southwest Airlines set itself apart from the industry by hiring and developing people who are a natural fit for the company and the jobs they were hired for. The result has been an engaged workforce, low turnover and great customer loyalty.
Let's look at how having the wrong people in place can cost your company dearly even at entry level positions. I was with a friend waiting in line at Starbucks as he was paying for his $8.00 grand latte supreme. The young woman at the cash register said, "That"ll be $8.00 please. Boy that's expensive!" In that moment of truth my friend looked at me and said with a chuckle, "She's right." He paid and left with his prized coffee. But he stopped going there deciding his coffee money was better spent at 7-11 at $2.00 a pop. Situations like this are as preventable as they are unfortunate. The right person with the right training would never have made this comment. The right people will help you grow your business while the wrong people will sink it.
Marissa Levin, CEO of Information Experts has grown her $15 million award winning business through hiring the right people. Levin explains her company secret to hiring , "When we look at employees, there are three things that we have to look at. And this is a rule of thumb pretty much for everybody, any organization. It's called the GWC Principle. Do they get it? Do they want it? And do they have the capacity to do it? So as we look not only at new hires, but at the existing people as we shuffle them around and reorganize and grow, we have to look at people and say, "Do they get it? Do they really get what they're supposed to be doing? Do they want it? Do they have the passion for it? And do they have the capacity? Do they have the physical capacity, the intellectual capacity, and the emotional capacity? Whatever the capacity may be, do they have the capacity to do it?" And not all employees in every position are going to have the get it, want it and have the capacity to do it factor." Use the GWC Principle to grow your business.
To grow his cloud hosting business Matthew Porter, CEO of Contegix pays a finders fee to employees of $20,000. He puts his money where his mouth is because he understands that without the right talent his company won't grow. How much is the right employee worth to help you grow your business?
In a competitive marketplace having the right human capital is critical to surviving and ultimately thriving. Make sure that you spend the needed time, energy and thought to hire and develop the right people to grow your business.