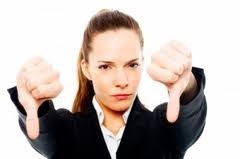 Every successful business must learn how to retain customers when they're unhappy because your product or service failed their expectations. In business customers complain every day. Whenever an airline flight is canceled, a package lost, a meal served cold, a product delivered without all its parts, or a deadline missed, customers are apt to complain. When problems like these occur, the customer is rarely angered by the mistake itself. In most cases, it is the way the problem is handled that makes or breaks the customer relationships. There are two basic approaches for handling complaints: the compa­ny-focused approach and the customer-focused approach.
Company-Focused. This approach has employees justify the company's position and defend why the mistake happened.  It usually involves the following:
Proving you are right and the customer is wrong
Showing it is the customer's fault, not yours
Avoiding personal responsibility
Telling the customer you can't or won't do anything
Taking this approach makes customers feel they have to "jump through hoops" to get rectified what should not have happened in the first place.
Customer-Focused. This approach attempts to make complaints "hassle-free."  This means providing quick, effective, hassle-free recovery to the customer; you take the heat, not the customer. It also means that if you are ever going to recover, you must get the full benefit of recov­ery. Use recovery as a positive strategy.  Ensure that customer issues get the type of responsive­ness that will turn unpleasant expe­ri­ences into positive ones. Keep in mind that 92% of customers who leave because of poor service would return if they receive an apology, a discount or proof that service has improved.
How to retain customers when they complain is an essential "Moment of Truth"  in the customer relationship. Handle it poorly and you not only lose a customer but the potential customers who are told about the poor service experience. Handle the complaint well and you can not only salvage the relationship but solidify as well.  To handle it well and maintain the relationship make sure that you follow these steps:
Say you are sorry.
Listen emphatically to the customer's con­cerns.
Hear him or her out. Let the cus­tom­er vent emotions. Circumventing or minimiz­ing the importance of emotion only invites com­plications. Letting off steam may be the beginning of a rational discus­sion.
Clarify the problem. Use your questioning skills to properly define the nature and cause of the problem.
Take total responsibility for "making it right."
Solve the problem without blaming some­one else. Address the problem with an appropri­ate course of action. Offer a solu­tion based on the nature of the problem and your comp­any's ability to rectify it. Be careful not to over-promise what you can do to correct the situation. If you drop the ball again, you may not get another chance to carry it.
Regain customer confidence in the product or service. This can only be done with ac­tions not empty words and promises. When the solution is implemented, make sure that the customer is satisfied and sees the value of your company's efforts.
Customers have many options in the New Economy. Drop the ball on them and most will just leave without saying a word. When customers do complain its an opportunity to learn new ways of how to retain customers. View complaints as specific suggestions of how to expand on how you satisfy or exceed your customers expectations.
Complaints will happen. How you handle each one will be your signature for managing the customer experience.
To discover ways in which you can improve your customers' experience take the Growth Positioning Survey.