Solidifying the customer relationship is essential for sustainable sales, profits and customer loyalty. This means you must manage the  relationship through the entire customer experience. From first encounter to a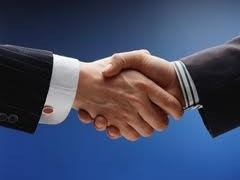 customer becoming a raving fan every customer touch either adds to a positive experience or detracts from it. How you handle each touch determines the direction of the relationship. We call  these touches moments of truth.
The Problem
One of the essential moments of truth in solidifying the customer relationship is when the product arrives or service begins.  When people make a purchase decision, they are, in effect, buying a promise that the product or service will deliver certain benefits.  If the product or service does deliver on its promise, the relationship is enhanced.  However, if the product doesn't deliver, the relationship is in jeopardy.  Consider the impact if you had to wait an hour for your food at McDonald's, or you were totally ignored at Nordstrom's department store.  You would be disappointed because your expectations weren't met.  This rarely (if ever) happens at these two companies because they train their people to successfully manage this moment of truth.  Many salespeople miss the opportunity to solidify the customer relationship because they are off to the next sale.
 The Solution
Personally delivering the product or contacting the customer when service starts is essential for building long and productive sales relationships.  To maximize the success of this approach be sure to do the following:
Reinforce the original reasons why the customer decided to buy.  This will support the customer's original decision, preventing buyer's remorse.
Identify issues or concerns.  If there is a problem, use it as an opportunity to demonstrate responsiveness and commitment to customer satisfaction.
Establish positive, realistic expectations for the product or service.  Make sure the customer is properly educated so that he or she can take full advantage of the purchase.  Address potential problems immediately.
Following these simple but powerful steps will go a long way towards solidifying customer relationships and enhancing your sales success.