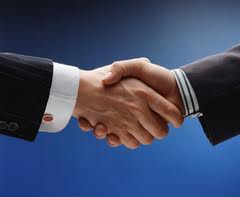 Building customer partnerships is essential for success today. Why? The New Economy demands a new approach to selling and so the world of selling has changed. Rela­tively simple times have given way to a selling environment influenced by eco­nomic, political, technological, and demo­graphic factors. The fact is, if you don't think beyond your own product or services, and don't adapt your selling approach to the changing times, you will be blind-sided by the competitors who do.
       The traditional selling approach focuses on a single event persuading the sales prospect to say yes to an offer of a product or service.  In each case, the selling process is a series of linear steps: pre-ap­proa­ch, ap­proa­ch, needs analy­sis, presen­tation, nego­ti­a­tions, close, and ser­vice. There are varia­tions to this tradi­tional ap­proach (and hun­dreds of sales tech­niques), but the bottom line is always the same: If you are suc­cessful in the process, you will reach the objec­tive a closed sale.
       Suppose we turn that process around to focus on customers. Suppose we place the value of winning customers above that of making a single sale. Suppose the goal is not to sell a product or service but to win customers. What have we accom­plis­hed?
       First, we have changed our perspective from short-term to long-term. A "repeat" customer is significantly more profitable in the long run than a "first-time, one-time" buyer.  Second, a steady customer produces better cash flow.  Third, the cost of re­taining a current customer is less than that of pros­pecting for a new one.  Fourth, an existing customer repre­sents a better potential for new or add-on servic­es with less asso­ciated sales ex­pense.  And final­ly, a satisfied customer is our best form of ad­vertis­ing, repre­senting an excel­lent source of refer­rals.
       In reality, successful sales­people usually hit their tar­gets. If your goal is per­suading the customers to sign a contract with your compa­ny, your past perfor­mance tells us you will not fall short. But simply making a sale falls short of the real goal of win­ning customers. And there­in lies the theory behind build­ing customer partner­ships.
       Building customer partnerships is built on a foundation of ten principles. Understanding and adapting these principles can help you become a more successful salesperson.
Principle 1: People buy for their reasons, not yours.
       You know exactly why you want to sell the customers on your products or services.  The more customers you sell the better off you and the company will be at the end of the year. Customers also have equally strong reason for buying. Perhaps they want to save money for their com­panies, as a way of increasing their worth as employees.  Or they've had a bad experience with your competitor and are looking for a supplier who will eliminate headaches. The important thing to remember is that customers always have their own unique reasons.
       Finding out each customers' buying motive is a key element of building customer partner­ships. Therefore, it is impor­tant to listen to what the customers says and how he or she says it. When you've uncov­ered the hidden motive, you can start aligning the features and bene­fits of your product or service with the per­sonal needs of the customers. Once customers see that you can satisfy their needs, they will do whatever is necessary to do busi­ness with you.
Principle 2: People buy solutions, not products or services.
       A consumer does not buy a car because it has four wheels and two doors; a consumer buys a car because it provides transportation from point A to point B in a style the consum­er finds to his or her liking. Likewise, customers are interested in what your services can do to help solve their problems or make life easier for them. For example, buyers care less about details of how you make your product than how that product's superior features will benefit their company.
       To be a top performing salesperson, you must transform the features and advantages of your products and services into terms customers can understand, appreciate, and apply to their own situation. When you do this, you're building a partnership with the customers, not simply selling the customers a product or service.
Principle 3: The act of buying is a series of decisions.
       Just as you size up customers during the initial meeting, those customers are making a series of decisions about you, the company you repre­sent, and what you have to offer. Customers are also analyzing what they are currently using to service personal needs, its cost and dozens of other factors known only to customers.
       If you realize the act of buying is not a single deci­sion but a series of deci­sions, you can concentrate your efforts on learning which decision is currently uppermost in the customer's mind. When you do that, you will be able to provide the infor­mation that will result in a favorable verdict and move the process along smoothly.
Principle 4: Decision-making follows a logical sequence.
       Each step in the decision-making process is made in a logical order. But the emotions and speed behind each decision will vary with each customer. For example, a customer may require several sales calls to accept you as a salesperson, but then move quickly to a final buying decision. Another customer may reverse the process. Consequently, you must be aware of each customer's unique deci­sion-making process. By listen­ing, observing, and questioning, you can learn where the customer is in the decision-making process. How you interact with a customer at one stage determines when or if you earn the right to advance with the customers to the next stage.
Principle 5: Customers decide by differen­tiating.
       Contrary to popular belief, there is no such thing as a commodity product or ser­vice. Not in the minds of customers. They will always find ways to determine differences between your services and your competitors'.  Price is one differentiator. But so are conve­nience, quality, timeliness, and dozens of other factors. A more appealing, well-thought-out sales approach may also be considered as a differentiator in the decision-making process.
       Assuming you don't want to sell on price differentiation, it is critical for you to help the customers see tangible (and intangible) differ­ences between your services and those of Company X. Once you have created differ­ences in the customers' mind, the buying process will move forward. Failing to do so may cause the customers to develop their own differentiation criteria, which may or may not be favorable to you.
Principle 6: If you don't differentiate, your competitors will.
       This is really a corollary of Principle 5.  Call it the art of positioning. You want to estab­lish a positive image of yourself, your compa­ny, and your products or services in the customer's mind before a competitor has a chance to differentiate his services. Much like a military campaign, it is easier to defend a position than attack one. In many re­spects, the sales "battlefield" is the customer's mind.  Salespeople who establish­ their position first, by differentiating best, will win the battle and, ultimately, the customer's trust and business.
Principle 7: The cornerstone of selling is trust.
       Remember, our goal is to win customers not just to make a fast sale. You may manip­ulate customers into buying once, but you won't establish a customer partnership until there is trust. Since most salespeople go for the close, customers have developed elaborate defense mechanisms to put sales­people off guard and avoid a decision.
       You could try to break down the customer's defenses, but what you will end up with is an adversarial relationship. Rather than attacking, you need to create an atmosphere of trust. If customers trust you, they'll tell you their needs and expectations, what they really want. If you can get them to talk about what they want, they'll listen when a solution is presented. If they listen to what you're proposing, they'll believe it. If they believe, they'll continue to buy. Which is how building customer partnerships leads to long term success?
Principle 8: Trust must be earned and then re-earned.
       Just as in a friendship, trust is something you must earn time after time, day after day, contract after contract. One slip: on your part a broken promise, a false claim, a breach of trust and you risk losing more than a sale. You may have lost a hard-earned customer.
       The objective is to establish the fact that you are committed to the customers, that you will always act in the customer's best inter­ests. This is done not through words, but through deeds. It becomes an attitude on your part. But it also must be a quality that comes through loud and clear to the customers on every sales call, includ­ing the first.
Principle 9: Know where customers stand at all times.
       Establishing a partnership is a dynamic process. At any time, the customers may be moving from one decision-making level to another: from skepticism to trust, from nega­tive to positive, from reticent to ready. The successful salesperson is constantly aware of where customers are in the buying process.
       As you prepare for your sales call, think of the process as a loop. First, gather your facts and plan your sales strategy. Then, when face to face with the customers, react to what the customers says, present information, discover information, and manage the sale as you guide the customers through the decision-making process. Finally, after the call, evalu­ate where you are, what was accomplished, and your next steps with the customers.
       This allows you to plan and control the next phase in the buying process by address­ing issues important to the customers and by building your trust level.
Principle 10: No two customers are alike.
       That's not exactly an earth-shattering revela­tion, but it's surprising how many sure­fire sales programs fail to recognize that customers (and salespeople) are individuals with different needs, unique styles, and distinctive ideas about how they'd like to sell and be sold.
Summary
       Building customers partnerships in the New Economy is not based on patterned responses to projected sales situa­tions. Instead, it's based on an approach that takes best advantage of ten sound selling princi­ples, basic human beh­avioral tendencies, and common sense. After learning the approach, you'll discover, with growing confidence, that no matter what type of person you're dealing with, or what the competitive challenge, you will be in a better position to establish a long-term partner­ship with the customers.