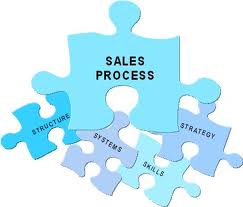 The sales process is one of the most overlooked assets a small business has for growing sales, profits and customer loyalty. If you want to grow your business this is one of the first places to look for dramatic results. I'll explain why and what you can do to get the most out of yours.
A sales process is a series of documented steps salespeople follow to move prospects from first contact to purchase. It should include:
Each specific step a prospects take
Knowledge prospects need to move to the next step
Resources you can provide to help prospects move forward
Length of time a prospects need at each step
Metrics that measure conversion rates (the percentage of prospects that move from one step to the next) for each step
With a documented sales process, you have a powerful tool that enables you to:
Sell more efficiently
Create more accurate sales and revenue reports
Estimate the revenue and return on investment (ROI) of your marketing campaigns
See which stages take the most time and find ways to move prospects forward
Create better literature and tools
Improve your campaigns
Minimize time your reps spend on estimates and forecasts
Unfortunately, with all the benefits of a defined sales process 70% of companies don't require their salespeople to comply with a standardized, documented set of sales processes.*(*ES Research Group)
Not getting  compliance may be caused by any number of factors including:  the process is poorly designed, or it's not understood or it's not supported by the organization. For whatever reason, allowing salespeople to "wing it" is a very expensive business strategy. Without a defined sales process resources can't be effectively allocated, revenues can't be accurately forecasted and customers may not get the information they need when they need it. All these factors contribute to lost sales, lower profits and diminished customer loyalty.
Even if your company has a defined sales process, that doesn't guarantee success. Your next challenge is to make sure that your sales process aligns with your customers' buying process. Starting the sales relationship just after a customer purchased from a competitor is far more challenging than starting when the customer first becomes aware of a need or want. When do you want your salespeople to start allocating selling time and company resources? Aligning your sales process with your customers'  buying process ensures your selling efforts begin as early in the buying process as possible. Thus giving you the best chance to influence the sales outcome.
Does your sales process make sure that you use the right selling effort supported by the right resources to make sure that sales are made in the shortest time with the fewest resources? If your answer is not a definite yes then you have a great opportunity for growing your business without adding costs. Improving your sales process doesn't add costs because it's simply directing your selling effort more effectively. The sooner you start the sooner you'll start seeing bottom line results.