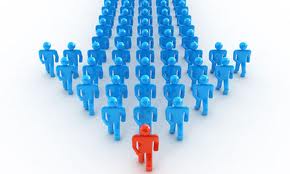 In spite of all the doom and gloom on the news many companies large and small are thriving in the same market spaces that are  claiming former industry leaders. Apple, Michael's, Ulta, ITW, Honest Tea, Contegix, Convergint Technologies, Information Experts, JD Norman Industries and Foursquare are a few of those that come to mind. What are these companies doing that allows them to step out from the pack? One word: Leadership.
It's easy to lead when times are great and your company grows based on the market you're in and not by the ability to execute business fundamentals. A bad economy doesn't cause good leadership to become bad, it simply reveals deficiencies that were shielded by the robust economy. These deficiencies are now exposed so that they can be exploited by the marketplace and competitors alike. If you don't understand the difference between being lucky (being in a good market) and being effective you'll become a quick casualty in a tough economy.
The New Economy is similar to the playoff season in the NFL. The competition intensifies and stakes become higher. Each team enters the playoff game armed with knowledge of their competitor's strengths, weaknesses and tendencies. This information is used to develop a game plan designed to leverage their own strengths and exploit the weaknesses of the competition. The team with the best game plan and execution of that plan wins the game and advances to the next round. The team that fails to plan well or execute effectively is left to ponder what went wrong and what could have been. In sports they say, "Wait until next year". In business there may not be a next year especially for the CEO or president.
I'll guarantee that the CEOs of the struggling companies like Kodak, RIM, HP and BOA don't wake up every morning thinking; "What can I do today to lose more shareholder value, de-motivate my employees while making more customers choose our competition?" Even if the results suggest that they did. The truth is that they just weren't prepared as leaders to navigate in the New Economy.
What can your company do to ensure success in the NEW ECONOMY?
During every economic downturn there have always been winners and losers. Companies with great leadership take market share from those that don't. In the Great Depression companies like Campbell's, Coca- Cola, Kellogg and others prospered during and afterwards because of their leadership and commitment to customers, brand and employees.
Research conducted by the Harvard Business Review on how companies responded to the downturn in 2000 indicates that a combination of selective cost reductions and strategic investments in new business opportunities allowed businesses to not just combat the downturn but laid the foundation for continued success when the downturn ended.(Harvard Business Review)
Michael's, the craft store chain, is embarking on this path as they have a strategy of using 50% of their cash flow to pay off debt and 50% to invest in growth. According to CEO John Menzer, "Reducing debt reduces our business risk, yet we continue to invest and grow stores and invest in technology, especially in the promotional side".
Menzer's three suggestions for leading in this economy include:
First of all, adjust your business to economic conditions. Make sure you know where your expenses are going to be as well as where your cash flow is going to be.
Make sure you have a very strong program if you want to grow. Because, if you want growth you're going to have to drive your business. But you do it in a way that minimizes business risk.
And if you're going to continue to grow, then you better have people ready and you better be communicating to your team.
Michael's strategy is paying off. Through the third quarter they are realizing record sales due to new approaches to marketing and increased earnings generated by improved operational efficiencies.
Companies who are thriving now share many things in common including:  having a clear sense of who they are, knowing who their customer is (and isn't), understanding the market they compete in, and then aligning their sales and marketing efforts to uniquely communicate and deliver their solution. Simply put they have "Right Sized" their organization to deliver the right solution, to the right customer, at the right time and at the right price… and they do it in a way that ensures bottom line results and grows customer loyalty.
Is your business positioned to thrive or stumble in the New Economy. Find out by taking the Growth Positioning Survey.